Skin Glow Treatment
Have you just looked in the mirror and seen that your skin lacks luster or looks dark? This is the sign of dull skin that you might be experiencing. As we grow older the skin starts losing its youthfulness and looks dull and lusterless. The reason behind the dull and lusterless could be due to number of external as well as internal factors. Moreover, if you are looking for the best clinic in Surat to go for Skin Glow Treatment then you have reached at the right place. We are the Best Skin Specialist in Surat at Navadiya Skin Care Clinic offers advanced cosmetological treatment options to revive dull skin for both men and women.
Beautiful, Glowing, Charming Skin is a dream of everyone in today's modern life.
We provide the very latest and effective treatment by our international technology and well-trained therapist.
For Skin Glow, we do treatment to repair and rejuvenate the skin.
In our day to day life, we damage our skin at such a level and after that skin needs treatment to remove that dead skin.
Reasons for Skin Tanning are Sun exposure, vitamin deficiency, pregnancy, environmental toxins, bad food habits, excessive alcohol intake, hormonal contraceptives, sunbathing and many more.
Skin glow treatment like Skin Peeling Treatment, Skin Rejuvenation Treatment, IPL Treatment, Q Switch Treatment, IV and Oral Glutathione Treatment, Skin Polishing Treatment, Pigmentation Therapy, Microdermabrasion treatment, Carbon Laser Peel, etc.
Skin glow lasts according to the patient's care of skin like sufficient intake of water, Proper food habits, unnecessary medications, avoid tobacco, sufficient sleep is needed, etc.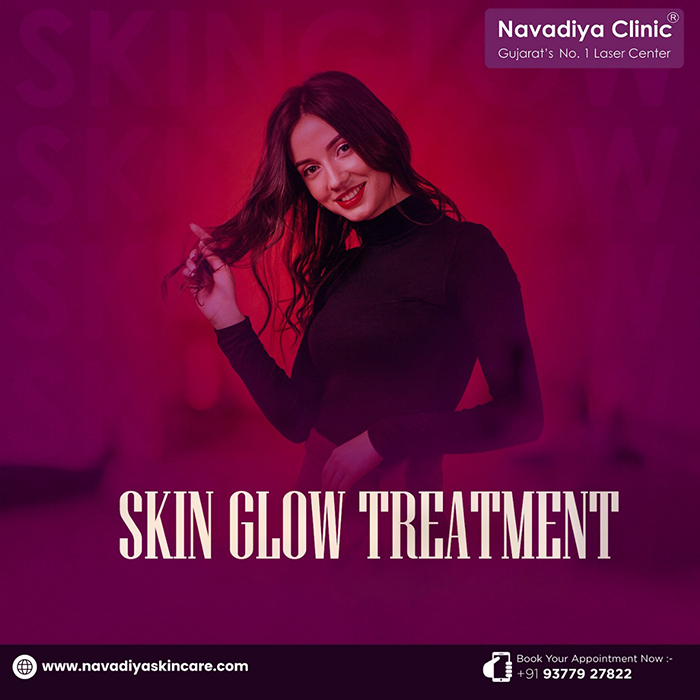 Skin Polishing Treatment
As we age, our skin gets older too!! With the time there are natural skin changes that are expected. Early recognition of these and timely intervention goes a long way in preserving the youthfulness and charm of your skin. We at Navadivya Skin Care Clinic offer our customer with all type of Skin Polishing Treatment according to their skin type. Skin Polishing Treatment process addresses various defects on the skin's surface by removing dead cells and allowing the fresher and more radiant skin to surface. It is done by polishing your skin with handheld devices or chemicals and introducing essential nutrients to the top layer. It is important that you know your skin type as this helps you choose your routine skin care regimens and treatments better.