Fungal Infection Treatment:
We are one of the leading service providers of fungal infection treatment, skin tightening treatment, skin rejuvenation, peeling, laser treatment etc. in Surat.
What Is a Fungal Infection?
A fungal infection is also called as mycosis, is a skin disease caused by a fungus. There are many of species of fungi. They live in the dirt, on plat, on household surface and on your skin.
Fungal Infection Symptoms:
Irritation
Scaly skin
Redness
Itching
Swelling
Blisters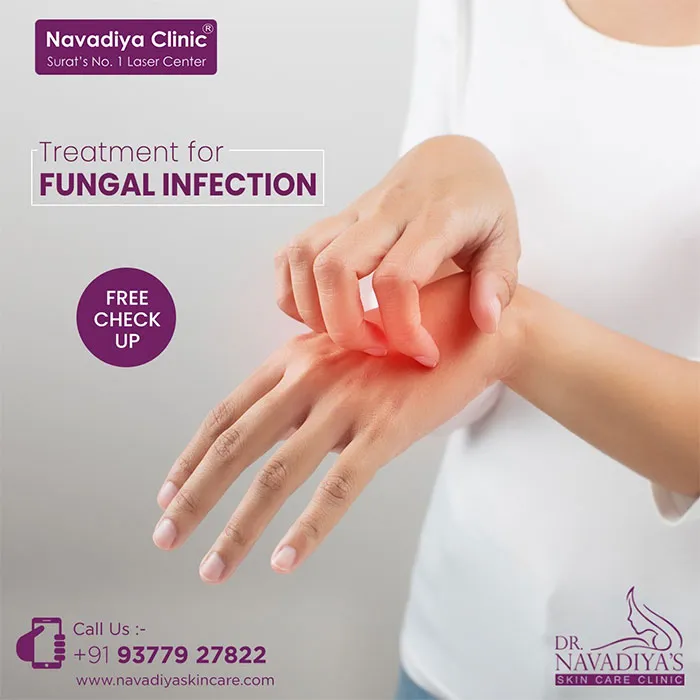 Skin fungus treatment
Antifungal meds work to treat contagious diseases. They can either kill fungi straightforwardly or keep them from developing and flourishing. Antifungal medications are accessible as OTC medicines or physician recommended meds, and arrive in an assortment of structures, including:
creams or ointments
pills
powders
sprays
shampoos
If you speculate you have a fungal skin contamination, you might need to attempt an OTC item to check whether it helps clear with increasing the condition. In more steady or extreme cases, your doctor might endorse a more grounded antifungal medication to assist with treating your disease. As well as taking OTC or prescribed antifungal, there are a few things that you can do at home to help dispose of the fungal infection. These include:
Keeping the impacted area spotless and dry
Wearing baggy dress or shoes that permit your skin to relax