Pigmentation Removal Treatment
At Navadiya Clinic we utilize state of the heart GentleLase pro lasers to perform the treatment and are experienced in the decrease of superficial pigmentation delivering best results. Our highly trained and experienced team of counselor is trained in the advanced technology and operates the safest machinery. Whatever skin fear, we have the experience, knowledge and professional skin treatment to give the finest results tailored to your skin goals.
How it Works
Laser Pigmentation Removal works to securely and adequately diminish the presence of spots, pigmentation, and post-injury pigmentation including skin inflammation scars and age spots. The laser targets only the pigmented injury in the skin which ingests the light, without harming the encompassing skin. The laser heats up and breaks the shade. The pigment is then attracted to the surface without hurting the encompassing tissue. Once attracted to the surface, the pigmented sores will blur or get and piece dry the treated area, leaving the skin with an even tone and appearance.
---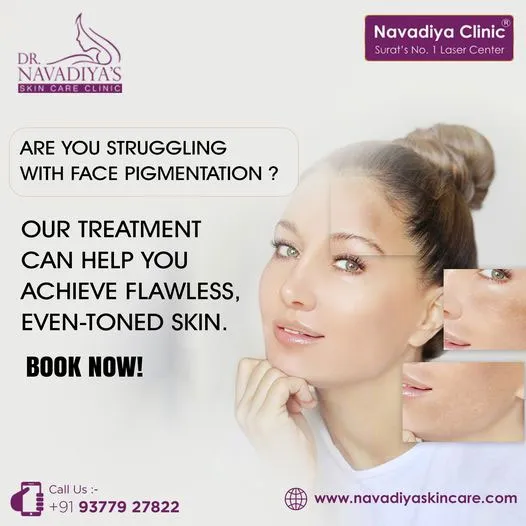 Hyperpigmentation Treatment for Body
Hyperpigmentation is when patches of skin appear darker than the surrounding skin. Skin Pigmentation is also the cause of change in skin color which becomes darker is called Hyperpigmentation. Skin conditions like redness, freckles, age spots, dull skin, dark patches, pigmentation etc. develop due to several underlying biological factors. We are Best Hyperpigmentation Treatment in Surat, Navsari, Vapi, Bardoli, Ankleshwar, Kosamba & Valsad helps to make sure that your skin gets a healthy approach with the help of an experienced team and treatment. Navadivya Skin Care Clinic is engaged in offering Hyperpigmentation Treatment for Body, where your full body gets treated. We are here to help you to regain the look of radiant skin by first understanding the signs of dull skin and then take the necessary steps to better help your skin recover its youthful glow.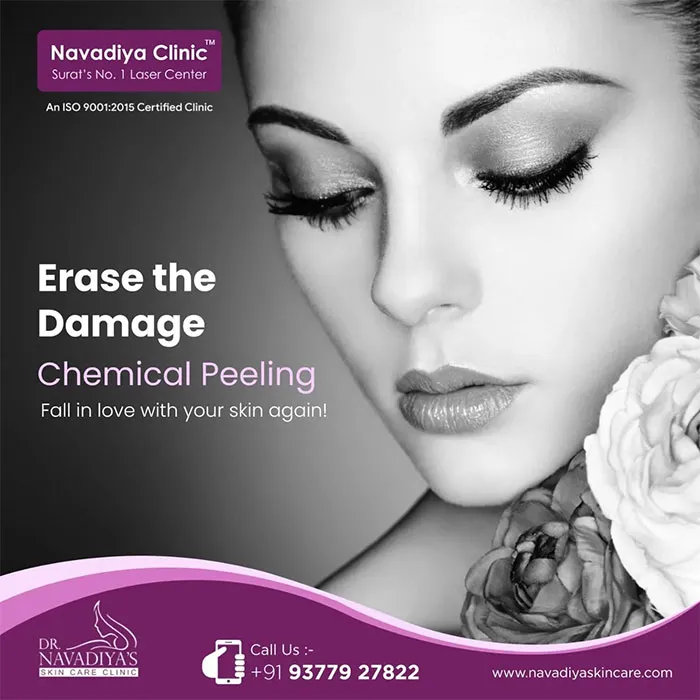 Chemical Peels for pigmentation treatment
These are medicines that to assist with eliminating the peripheral layer of the skin. The cells are then animated to recuperate and return better, causing the tone to seem more youthful, fresher, and brighter. However, if the force is lower, the outcomes are probably going to be fair. Contingent upon whether a gentle, medium or profound peel is required, an alternate compound arrangement will be utilized. For example, those able to do a less serious treatment can utilize alpha hydroxy acids (AHAs) like natural product, lactic, and glycolic acids. They can certainly assist with pigmentation but since of the low power, they should be done again and again to keep up with results. They likewise offer a short recovery period.
Normal side effects incorporate enlarging, redness, and stinging. Remember that you shouldn't uncover your bare skin to the sun after the treatment.