Laser Hair Removal
Dr. Navadiya Skin Care Clinic offers you multiple laser hair removal machines with diverse laser wavelength to perform hair removal, along with the only virtually without any type of pain with laser hair removal machine which makes us to be Best Laser Hair Removal Clinic in Surat. This makes us to personalize each and every treatment to offer the best type of Skin Treatment and preferences. All the treatments carried at our clinics are done by the Best Cosmetologist and with our best range of equipment; you can rest assured that you will get the desired results, even if you have a darker skin type, light or fine hair.
Laser Hair Removal is a non-surgical and non-invasive treatment.
Generally preferable after the age of 15 years.
Diode Laser and IPL technologies are used for Hair Removal.
It is very safe if done with proper parameters and by following some Do's and Don'ts
It is an almost painless treatment and very effective.
Laser Hair Removal may take sittings which further depend on Hair thickness, Hormones and quality of treatment.
Waxing, Plucking and Threading must be avoided by a patient at least 2-3 days before treatment; otherwise, it may cause severe redness, irritation and damage to the skin.
Deodorants and Perfumes also patient have to avoid before and after 3 to 4 days of treatment.
The duration between two sessions is average of 30 to 45 days
After each session, some Hairs come out and grow after 10 to 15 days of session and then they are automatically pulled out from the follicle.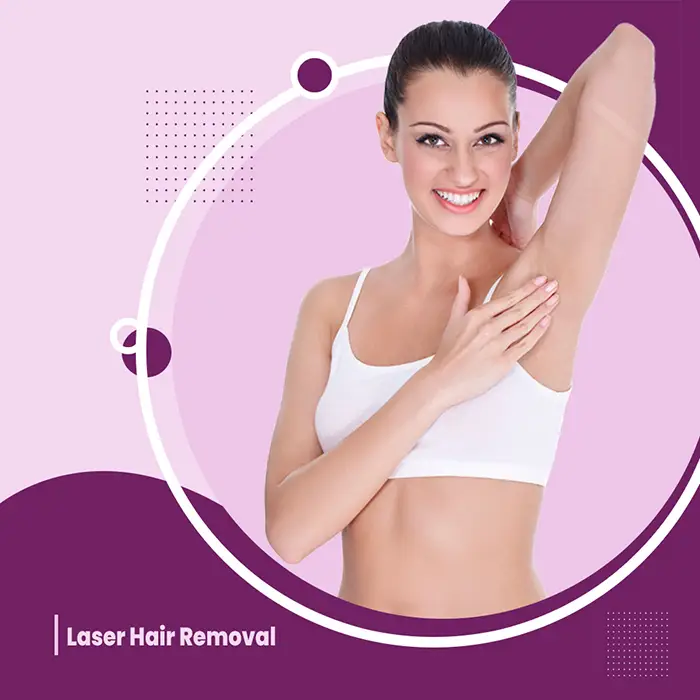 If you're looking for Permanent Hair Removal Treatment and get rid of unwanted hair, then you are at the right place, we the best clinic for permanent laser hair removal solution in Surat. Get free consultation today. Not only we provide treatment leveraging the world-class technology, but we also offer the best Laser Treatment for Skin Fairness in Surat.
Hirsutism Laser Treatment
Navadiya Skin Care is one of the Best Hirsutism Laser Treatment in Surat. Hirsutism refers to excessive growth of hair in different parts of women's and men's body and face. On an average 15% of women from across the world are affected by Hirsutism. These are caused due to an abnormally high level of androgens in hormones. Abnormal hair growth is caused due to many reasons. Usually, they are a symptom of an underlying problem such as PCOD (Polycystic ovary syndrome or disorder), (Hypercortisolism or Cushing syndrome), Tumours, Insulin, Effect of medication. In women the reason for Hirsutism of Menopause. We are engaged in offering best range of Hirsutism Laser Treatment which is a permanent solution for hair reduction from the body and face.
Melasma Laser Treatment
Melasma is a common acquired skin disorder that presents as a bilateral, blotchy, brownish facial pigmentation. These causes patch of discoloration on the face and are symmetrical with matching marks. The patches are darker than tour usual skin color. Worried about Melasma Laser Treatment, step into Navadiya Skin Care Clinic, our experienced specialists conducts skin analysis to understand the lifestyle and diagnosed cause or your pigmentation. Navadiya Skin Care Clinic at Surat is one of the best Melasma Laser Treatment. Our healthy skin holistic treatments are absolutely safe and customized as per your skin cosmetic concern. At our skin care clinic we provide our customers with variety of customized skin care treatment which help them to get rid of Melasma.