Melasma Laser Treatment
Navadiya skincare clinic is one of the best service providers of melasma laser treatment in Surat. Melasma Laser Treatment is a skin condition that causes gray or brown spots of discoloration on your skin. It can occur to anyone, and is not safe to your health, but it can be an irritating cosmetic issue. Melasma most commonly includes sun – exposed areas of your skin including:
Cheeks
Upper lip
Chin
Forehead and other sun exposed skin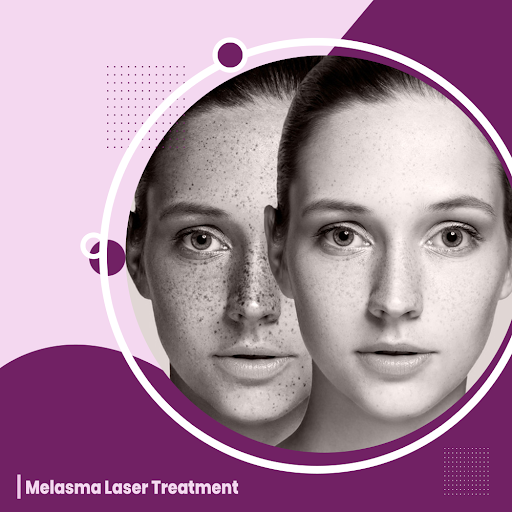 Best Melasma Laser Treatment Near Me
It is brought by melanocytes in skin making additional pigmentation, and melasma regularly influences ladies with hazier appearances since they have more melanocytes. The main variable being developed of melasma is sun exposure.
Melasma is also connected with female hormones, and it is more frequent in people who are pregnant or taking hormonal birth control. Melasma can also be caused by genetics and definite medications.  Melasma is more ordinary in women than men. People with light brown skin from regions of the world with extreme sun exposure experience it.
Melasma is a common acquired skin disorder that presents as a bilateral, blotchy, brownish facial pigmentation. These causes patch of discoloration on the face and are symmetrical with matching marks. The patches are darker than tour usual skin color. Worried about Melasma Laser Treatment, step into Navadiya Skin Care Clinic, our experienced specialists conducts skin analysis to understand the lifestyle and diagnosed cause or your pigmentation. Navadiya Skin Care Clinic at Surat is one of the best Melasma Laser Treatment. Our healthy skin holistic treatments are absolutely safe and customized as per your skin cosmetic concern. At our skin care clinic we provide our customers with variety of customized skin care treatment which help them to get rid of Melasma.
How do skin specialist treat melasma?
Melasma can blur all alone. This typically happens when a trigger, for example, a pregnancy or conception prevention pills, causes the melasma. At the point when a lady conveys her child or quits taking the anti-conception medication pills, melasma can fade.
In any case, certain individuals have melasma for quite a long time, or even a lifetime. In the melasma doesn't disappear or a lady needs to continue to take contraception pills, melasma medicines are accessible.
These include:
Hydroquinone
Tretinoin and corticosteroids
Other topical (applied to the skin) medicines
Procedures
Treatment of melasma is extremely challenging and even with splendid outcomes from a treatment, the color of melasma can and regularly repeats. If melasma develops after starting a chemical pill, it is recommended that the medicine should be stopped and all related hormonal pills be avoided in future. The first step is sun protection, the next step is topical products and chemical peels and the last step are laser treatments.